Gardening is a fulfilling and therapeutic activity that allows us to connect with nature and beautify our surroundings. Whether you're an experienced green thumb or just starting to cultivate your garden, one crucial aspect often overlooked is the use of garden gloves. These seemingly simple accessories play a vital role in ensuring your gardening experience remains safe, enjoyable, and hassle-free. In this article, we will explore the benefits of using garden gloves and why they should be an integral part of every gardener's toolkit.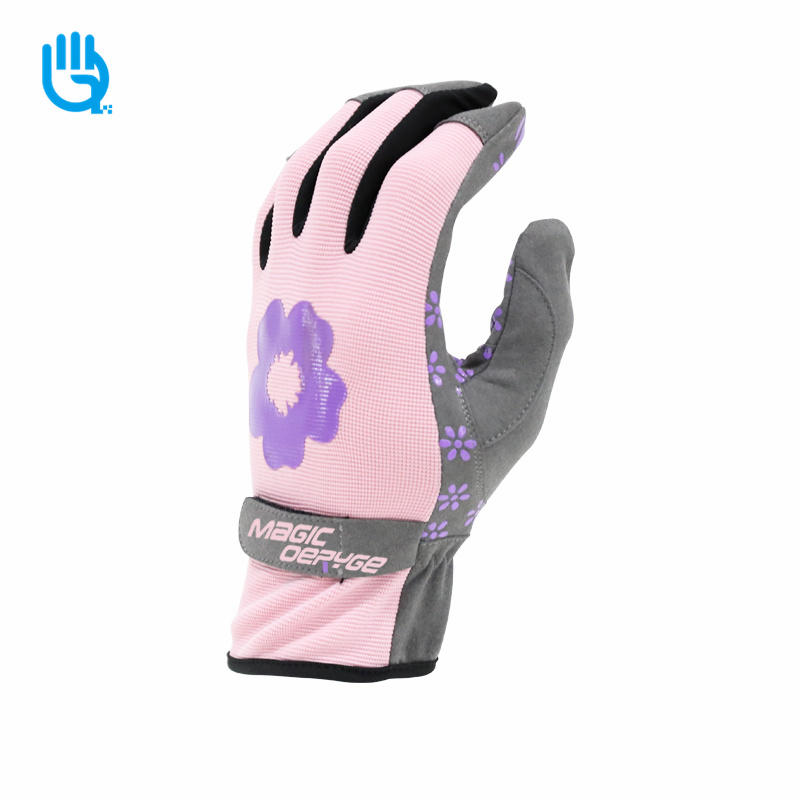 Protection against Injuries and Irritants:
Gardening involves handling various tools, plants, and soil, which can expose your hands to potential injuries and irritants. Garden gloves act as a protective barrier, shielding your hands from thorns, sharp edges, and abrasive surfaces. They minimize the risk of cuts, scrapes, and blisters that may occur while pruning, weeding, or handling rough materials.
Moreover, garden gloves act as a barrier against potential skin irritants such as poisonous plants, chemicals, and allergens. They provide a layer of protection that reduces the chances of developing skin rashes, allergic reactions, or exposure to harmful substances.
Enhanced Grip and Dexterity:
Choosing the right type of garden gloves can significantly improve your grip and dexterity, enabling you to handle gardening tools and delicate plants with ease. Gloves made from materials like latex, nitrile, or rubber often have textured surfaces or specialized coatings that enhance your grip on tools, preventing accidental slips and drops. Additionally, gloves that fit snugly and have flexible fingers allow for better control and manipulation of objects, ensuring precise movements while planting or transplanting.
Comfort and Extended Gardening Sessions:
Gardening can be a time-consuming activity that requires extended periods of work. Wearing garden gloves provides added comfort, especially when working with rough or coarse materials. They cushion your hands against the pressure exerted while digging, shoveling, or hauling heavy loads, reducing strain and fatigue. Additionally, gloves made from breathable materials help maintain a comfortable temperature and prevent excessive sweating, which can lead to discomfort and skin irritation.
Protection from Sun and Moisture:
Gardening often involves exposure to the elements, including sunlight and moisture. Prolonged exposure to the sun can lead to sunburn, premature aging, and even skin cancer. Wearing garden gloves with long cuffs or UV protection helps shield your hands and wrists from harmful UV rays, minimizing the risk of sun damage.
Similarly, garden gloves provide a barrier against moisture, preventing your hands from becoming excessively wet or dirty. This is particularly important when handling damp soil, muddy areas, or during rainy weather. Keeping your hands dry and clean not only enhances your gardening experience but also reduces the likelihood of infections or fungal growth.
Versatility and Specialized Functions:
Garden gloves come in a variety of styles and designs to cater to different gardening tasks. Some gloves are specifically designed for pruning, featuring reinforced fingertips and extra protection for the palms. Others are ideal for delicate tasks like seed planting or transplanting, offering a lightweight and breathable construction. There are also waterproof gloves for wet or muddy conditions, as well as thermal gloves for cold-weather gardening.
Garden gloves
are an indispensable accessory for every gardener, offering protection, comfort, and versatility. By using garden gloves, you can ensure your hands remain safe from injuries, irritants, and the harmful effects of the sun. They provide improved grip and dexterity, allowing you to handle tools and plants with precision. Additionally, garden gloves enhance your overall gardening experience by providing comfort, moisture protection, and specialized functions for various tasks.