Protective gloves
and tool gloves are designed to protect the hands and fingers from hazards such as cuts, punctures, abrasion, heat, cold, and electrical shock. They are made from various materials such as leather, rubber, kevlar, and neoprene, and are chosen based on the specific application.
Protective gloves are commonly used in industries such as construction, manufacturing, and chemical handling, where workers are exposed to various hazards. They can also be used for personal protective equipment in outdoor activities, such as gardening or camping.
Tool gloves, on the other hand, are gloves that have been designed to be used in conjunction with hand tools, power tools, and machinery. They provide grip and dexterity, allowing the user to work more efficiently and safely. Tool gloves are typically made from materials that provide good grip, such as rubber or silicone, and they may also have reinforced fingertips to protect against cuts and punctures.
It is important to choose the right type of protective or tool gloves for the task at hand, as different materials and designs offer different levels of protection and dexterity. For example, gloves made from heavy-duty materials like leather or kevlar are suitable for heavy-duty applications, while gloves made from lighter materials like neoprene are better suited for tasks that require greater dexterity.
The high-performance microfiber material on the palm is wear-resistant and improves the wearing comfort of the gloves. PVC anti-slip leather patches are added on the palm surface. Provides high impact protection for the back of the hand; Finger bay finger shape, ergonomically sewn to provide good hand shape and comfortable wearing with light and tight skin; cuff stair cloth compound, better suitable for joint shrinkage and hand joints protection of.
High Performance Series: Mechanical Gloves
Sales Area: Worldwide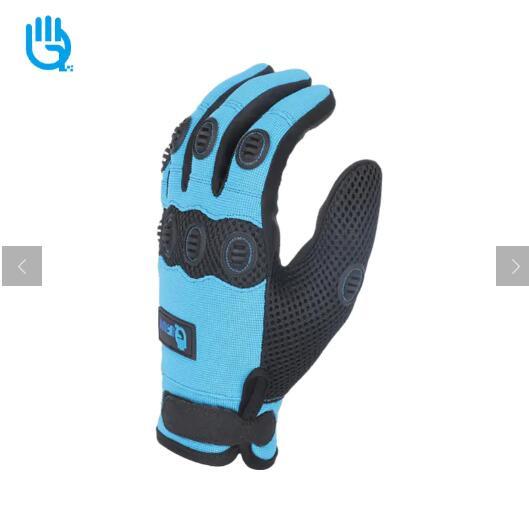 Applicable industries
·Mechanical operation
·Maintenance
·Achitechive
·Rescue operations